Razzle Dazzle: Summertime Horror
THE DESCENT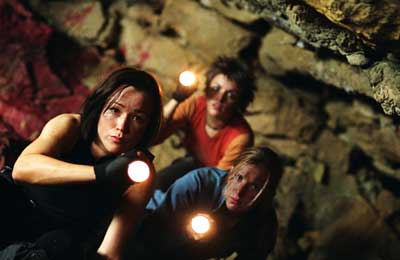 I had the amazing pleasure of being among the first people in the U.S. to see Neil Marshall's nail-biting, seat-pounding, skin-crawling, roller coaster ride, THE DESCENT. (
Click for Review
) This horror classic opens in August, but you can catch a glimpse right now. I have to give the trailer some high marks for not ruining most of the surprises. A very effective job of bottling the thrills into a slick two-minute package.
LINK
MOMENT THAT STOLE MY MONEY: You'll know it when you jump.
TRAILER RATING: 8 out of 10
THE OMEN
I've accepted the idea of them remaking a very good film from 30 years ago, that hasn't lost its ability to shock and scare one bit. What surprises me is how faithful they're being to the source material. Much of the dialogue and camera angles in this update are taken directly from the old version. I was expecting a fresh take, but the only thing that seems to be different is the cast.
LINK
MOMENT THAT SAVED ME MONEY: The overwhelming Deja Vu...and Julia Stiles
TRAILER RATING: 4 out of 10…mostly for moments that worked well enough the first time around.