Top 10 Films of 2006…Early Edition
It's hard to believe that
every year I see over 100 films
, even though it takes me months to watch my first 10. Now that I have seen 10 releases from 2006, I thought it would be fun to do a recap. (Click title to read the full review if available.)
10) LADY VENGEANCE
The review on my site is from my friend Humby, and I honestly don't agree with it (hence, no link.) The film has garnered very positive reviews and I love filmmaker Chan-wook Park, but I found the film to be a maddening collection of subplots that take forever to reach a point. Even the vengeance this time, I just had trouble believing.
9) NIGHT WATCH
Another serious disappointment. The trailers and clips had me amped, but the story is a mess. The visuals wavered between unique and frustrating and it ultimately felt like a two-hour set-up for the sequel. By itself, it's not a whole movie.
8) ICE AGE 2
The jokes are passable, but the thinnest of plots feels stretched out with some tired shtick and odd musical bits. The bits with the acorn are definitely worth seeing. They always deliver.
7)
LOOKING FOR COMEDY IN THE MUSLIM WORLD
This film was barely written, with Albert Brooks playing himself, plot points that vanish and old Brooks routines used to pad the running time. However, there are some big laughs and the classic routines are pricelessly funny.
6)
HOSTEL
I just watched the film again on DVD, and feel confident saying this is actually a good picture and one of the more unique horror films to come along in this recent wave of Hard-R terror. It's not perfect, but it delivers the goods in big gooey helpings.
5) INSIDE MAN
Smart, sharp thriller with stellar performances from Denzel and Clive Owen. I didn't understand Jodie's character, and for how much I like her, it was hard to just watch her floating through the scenery. I think she's miscast, but the film itself is really well crafted.
4)
BRICK
A great indie, transferring the world of hard-boiled detectives into a high school setting. Joseph Gordon-Levitt leads a stellar cast of unknowns as the films Bogart, determined to find out who murdered the girl he loved. It's all soaked in great, complex dialogue.
3)
THE DESCENT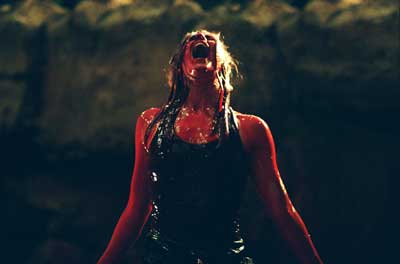 This opens later in the summer, but I've already seen it and don't mind bragging as often as possible that THIS is the horrifying thrill ride that will be remembered for many long years to come.
2)
V FOR VENDETTA
So much smarter, more exciting and just plain…neater than I was expecting. Making up for messing THE MATRIX, the Wachowski Bros. deliver a script that balances the heavy ideas with an entertaining story. Much credit to first time director James McTeigue for balancing a lot of tricky elements into one of the best graphic novel adaptations ever.
1)
UNITED 93
I was hoping less people would stay away from this vital film about 9/11 which avoids all of the pitfalls keeping people away in the first place. Anyone who thinks this film exploits tragedy for profit couldn't be more wrong. UNITED 93 honors the people who performed an incredible job under impossible circumstances.
As for the people onboard Flight 93, they're actions can be seen as noting less than heroic. They stared at certain death and made a conscious decision to not just lie there and let the bad guys win. I expect this to make many Top 10 lists at the end of the year, and will probably only grow in respect as time goes on.